Spotlight: Julie Saints
Written by DJ Tulisan on August 28, 2020
JULIE SAINTS is not just a fresh face in the indie music scene – she is a breath of fresh air. Her music is like a soft breeze approaching with a promise of a gale that can blow the listener's inhibitions away. And she is an artist who is not content in striking out on her own, not shy to mix up her music with fellow indie artists, bringing a melodic concoction that is both unique and diverse.
When she is not cloaked in her musical persona, she is Julie Santos, born and raised in Paranaque, Philippines, who moved to California almost ten years ago with her family. Her musical talent started at an early age, was molded and nurtured as she grew up and played with other musicians, and achieved critical mass when she decided to strike out on her own and write her own songs. Her music is a conglomeration of influences, from ballads to metal, hard rock to math rock, and traditional to experimental. Her style of music is not just a celebration of tone, but a festival of words as well. She has already released several songs under Julie Saints, and each song is unique with varying melodies but the same sweet voice that has become her trademark.
THE HISTORY
Julie's music began with family – when she was five-years-old, her parents enrolled her with her siblings to piano lessons, with recitals being part of their yearly ritual. Almost two years later, her cousins would train and choreograph them to classical music like Les Miserables and The Sound of Music, which they will then perform at family gatherings. It was at that time when Julie started singing, along with her sisters, as they memorized the songs and offered them as "gifts" to their parents during parties.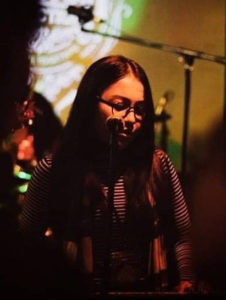 "That was really fun for me," recalled Julie, "and those moments probably molded me into who I am now, musically."
When she turned thirteen, Julie took up formal singing, with her voice teacher instructing her in opera and classical voice lessons. It was also during that time when she started writing her own music.
She joined her first band at the age of fifteen, teaching herself the guitar along the way, but continued to do solo work on the side, crafting her own songs as she played with other musicians who have their own repertoire. Even though she grew up being influenced by classical, theater and even Disney music, she was also intrigued by charismatic '80s music and the aggressive '90s genres like hard rock and alternative, and the early music of the 2000s. Her diverse tastes were mainly brought by the bands she played in, adjusting styles on the fly based on the individual preferences of her band members and the type of music played by the band.
"I find it fun to experiment with music when your genre is diverse," said Julie, who played in house parties from Alabang to Makati, with a few bar gigs in Paranaque and Las Pinas sprinkled in between.
One of her memorable gigs was in a bar in BF Homes, Paranaque, where she first met her husband, Miguel, more than a decade ago. The venue has since been closed but she still has fond memories of the place.
When she moved to California in 2010, she continued to perform in various venues around the Bay Area, in cities like Oakland, Hayward, San Francisco, Daly City, Fremont, San Jose and other places around Northern California. When she heads south from time to time, she also plays in the Los Angeles area as well.  One gig that she recalls vividly was at the Broadway Studios in San Francisco in 2012, where her band opened for famous Philippine bands like Greyhoundz and Typecast.
"That gig was memorable," recalled Julie, "because during our last song I was chanting 'Legalize marijuana!' and the crowd cheered with me. That was really fun."
(Note: Julie also hosts a fascinating video blog about marijuana entitled "Usapang Chongke." But we will discuss her views on this wonderful plant in a separate article.)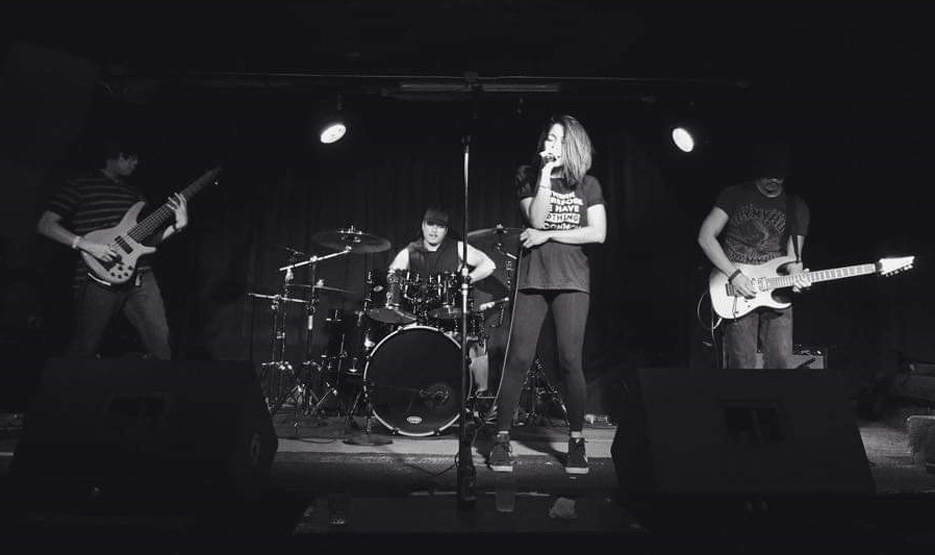 THE MUSIC
Even though she had been writing songs since she was 13, all the music she has released recently were new. She says that she still remembers some of her early songs, and is thinking about reviving and releasing those old but memorable tunes.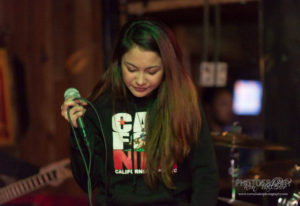 She not only demonstrates talent but also perseverance, ensuring that the words she matches with the melodies reflect herself.
"I write about songs that will help me attain balance and peace," muses Julie, "as much as possible, I write songs that are helpful to my growth and experiences."
"Before, I used to just write my emotions down without filtering them, or I used to fill my head with emotionally stimulating stories to write about. Now, I'm learning how to take pauses and select which energy I want to give out and share."
THE FUTURE
Even with the number of singles she has already released, Julie wants to release an EP by the end of the year, and is already planning for a full album next year. In addition to her solo work, she has also been working with fellow musicians. She has already collaborated with indie artists like Roger Alcantara, Joey Dizon, and recently with Ferdz Rafanan of Monumental By Far, and has upcoming collaborations with Frey Zambrano, Erwin Cerdina, Alex Lipar and Jude Semana (Juddhas).
"I feel like these collaborations were able to help me grow, musically," said Julie.
Julie now releases her solo work as Julie Saints Music, and has already performed online on May 2020, not allowing the pandemic to stifle her artistry. Like many artists, she can't wait to go back to performing live and in person. In these uncertain times, she is taking advantage of it by writing more new material and has been busy with her friends at Speedyboy Productions. Her goal is to continue writing music and release new songs every five or six weeks.
"Music is healing for me," says Julie, "and I realized that for years I've spent so much time doing other things that I wasn't able to give focus on my solo music projects."
Even as the pandemic has affected the way artists have written their musical pieces and engaged their fans with their music, Julie does not treat it as a time to be relax or be complacent.
"This pandemic has brought imbalance to a lot of people, even for myself," said Julie. "(Writing) music just pushes me back on track and helps me become more productive and fulfilled even with this ongoing pandemic."
THE SINGLES
INFORMATION
Website: www.juliesaints.com
Facebook: www.facebook.com/JulieSaintsMusic
YouTube: www.youtube.com/JulieSaintsMusic
Spotify: open.spotify.com/artist/2wCZArlnOFMlwHLTzyNW88
Apple Music: music.apple.com/us/artist/julie-saints-music/1488378293
Pinoy Rock USA would like to thank Julie Santos of Julie Saints Music for allowing us to feature her in this site. More power to you Julie! Keep the music playing!
---
Reader's opinions
---