Spotlight: Tim De Ramos (Carpools)
Written by DJ Tulisan on August 14, 2020
TIM DE RAMOS is a person with a gargantuan resume, and to say that he is a talented musician is a gross understatement. The soft-spoken Fil-Am who currently lives in Orange County has been in the company of Pinoy rock royalty for many years, yet he never forgot his indie roots and lends his considerable talents to help Pinoy rock flourish in the United States.
In all its iterations, Tim's music is genuinely Pinoy. Heavily influenced  by the '90s rock renaissance that took place in the Philippines, where indie bands became superstars and niche music became mainstream, Tim's musical aptitude was intimately honed to that popular genre, and he executes it with expert ease. After twenty five years of playing music, almost half of those years professionally, and being able to play all the necessary instruments to mold his musical vision, Tim is much more than a one-man band; he is Pinoy rock personified.
HISTORY
Tim found musical inspiration even while growing up in a family more focused on sports than music. He says that the legendary band Eraserheads pretty much got him into music. Although known as a drummer, Tim's first instrument was actually the guitar, which he learned when he was ten years old after listening to the "Circus" album. He pursued the drums not long after, learning to play "Ang Huling El Bimbo" from the Eheads follow-up album, "Cutterpillow." And when "Fruitcake" came out, Tim made it a daily drum lesson, playing every song from the Christmas album after school.
"I always daydreamed of being onstage with the 'Heads," Tim mused. He actually went to the same school as Raimund Marasigan, the drummer for Eraserheads before he went on to spearhead several successful bands and productions.
Tim's first gig was during that school's foundation day, and with Raimund there, forming a band was almost automatic. His friendship with Raimund lasted even after Eraserheads, when Marasigan took a chance on him as a substitute drummer for his new band Cambio. That was Tim's first "big" gig, and the experience led to him playing for famous Pinoy bands like Sugarfree and Imago.
He was even a part of the band "If Disco Is A Crime," a short-lived supergroup composed of members of Chicosci, COG, and Kjwan. But being the proverbial "sessionist," Tim was not as recognized as his band members.
"Akong lang 'ata walang credit sa banda na yun, haha!" Tim recalled.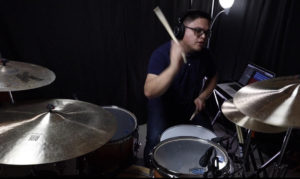 This experience, however, gave Tim the confidence to continue playing when he decided to move to California, where he proceeded to play with Glenn Jacinto of Teeth, Introvoys, Kapoteng Bakal, and Bamboo Mañalac, formerly of Rivermaya.
Being the go-to drummer of high profile Pinoy musicians in the U.S., Tim was deluged with invitations to go on tour and play in concerts, many taking place outside of California.
One of his most memorable experiences involved playing with Bamboo in New York City, at the La Boom Lounge in Queens, which was immediately followed the next day with a performance in Toronto, Canada.
"(It was) sold out," Tim said, "first time ko nadama yung power ng audience at yung level ni Bams (Bamboo) when he performed."
Tim joined Bamboo for several weeks on that successful tour, and came back armed with more experience and more good reputation. But instead of actively searching for more high-profile gigs, he decided to continue improving his craft and reconnect with his friends and bandmates in the indie scene.
MUSIC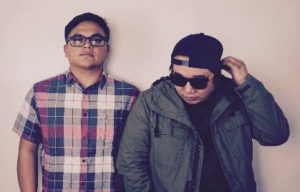 Tim did not discriminate on the musical genre of the bands he played for: he played drums for ZipCode and From the Valley (alternative), Glenn Jacinto Band ('90s covers), L.A. Rats (classic rock), subbed for New Day in August (new wave), and even played showbands featuring GG Starr, Pia and Pandoy, and Third Degree.
He even found time to get together with Mic Frias (former vocalist for Philippine band Poetic Sparks) and form a band named Monster Turned Machine.
"Mic and I used to see each other during gigs," Tim recalled, "and eventually he introduced himself to me, how he liked my drumming, etc. Then nag-grow na lang from there. MTM is the result of our common bond in music."
PRODUCTION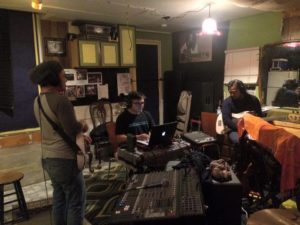 Not only was Tim adept at live performances, he has also developed into a respected sound engineer and producer. Using his knowledge and experience from the various genres he played in, he was able to provide sound advice (hehe) and properly mix and adjust the music to its optimal level. He has produced EPs and albums for indie bands featured in our Weekly Spotlights (Mayday, New Day in August, BeyoBeo, etc.), and other more prominent bands.
"TDR" became a seal of quality and, in many instances, bands and artists sought his production talent, not just his drumming.
Despite being accommodating in producing albums and playing the drums for other bands, he had his own personal project in the works. This project was Carpools.
CARPOOLS
Carpools started in 2006, and was treated by Tim as another outlet from being just a drummer.
"I know where I'm good at in terms of playing an instrument," Tim recounted, "pero since guitar was the first instrument na natutunan ko, laging may urge to play or be in a band where I get to do that."
And do that he did. He wrote his first song "Let It Go" and played it with Carpools' first band member – fellow drummer Bee Torres, who is also a successful musician who plays with several bands in the indie scene. Using his first Macbook and M-Audio interface, all Tim did after getting back from work was write songs.
Eventually he was able to record five songs, and after recording them on CDs, he gave out copies to Glenn Jacinto, former bandmate Paco Arespacochaga of Introvoys, and promoter and indie archivist Le-Van De Guzman, as well as other local musicians in Los Angeles. He treated it as his calling card.
That calling card became more prominent, as he was playing those same songs live before too long. Assisted by his friends who returned the favor of being "sessionists" for him, Carpools was able to make its presence felt in the Los Angeles underground scene, and in the process come up with two EPs.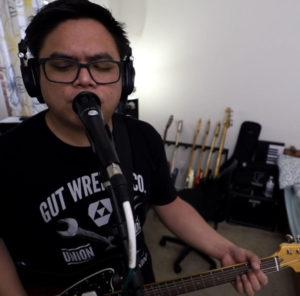 The second EP, in particular, was just released this year, and was a testament to talent and preparation – the EP was recorded and done in two days!
"I had it all planned prior," said Tim, "I made notes of which instrument to record first, chord chart for each song, tempo, guide drum track, lyrics, etc. I remember I started tracking around 10am, then would take breaks after two hours."
Tim continued, "I would record and finish all rhythm guitars for five songs, then record all the lead guitar, then all the bass, then all drums – finishing with vocals on that same day."
"Day two was editing, mixing, and overdubs."
THE QUARANTIM SESSIONS
Tim's popular QuaranTim Sessions, where he does split-screen video performances of himself jamming with various musicians, playing popular covers or other bands' original songs, was already in Tim's mind even before the pandemic and the lockdowns. He had been planning to create online content that showcases musical performances with bands and artists that he liked and respected.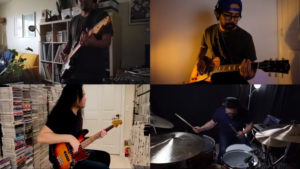 "It's always in my head, pero maraming technical knowledge na kailangan to make it happen."
Even with Tim's expansive knowledge of production, he still needed to learn how to record the audio using multiple, uncontrolled sources, then editing and mixing them to come up with a clear result. Not only that, he also realizes that lighting is key, and good audio is a priority. His guiding principle is that he only has one shot at it, so he has to do whatever he can to make it as good (and usable) as possible.
But his goal and focus is clear – showcase the talent and skill of musicians he jams with. He adjusts his methods depending on who he's collaborating with, showcasing their strengths and complementing the rest.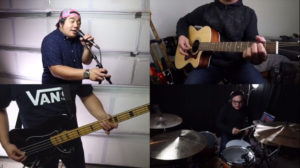 He admits that, whenever he uploads his videos to Facebook or Youtube, he spots mistakes and sees things that he missed and need to improve. But he doesn't get discouraged, and believes that what Steve Jobs once said: "Mistakes are good because that means you made a decision." Then he proceeds to make a note of it and makes sure to avoid it in the next session.
When asked what he wants to do now, after he has just released his 30th QuaranTim Session video, he enthusiastically answers, "Hopefully 30 more!"
OUTSIDE MUSIC
When he's not pounding the skins or shredding the strings, Tim works at a hospital and is responsible for the sterilization of reusable surgical instruments in both the operating room and procedure center, essentially preparing the tools before a surgery so that it can proceed smoothly.
Juggling work and music is not a problem for Tim, because he knows his priorities.
"I know I'm not going to be famous or make good income from this (music), so my day job is my primary priority and music is seconday."
At home, he is met by his wife Ciara (who is also in the medical field) and his son Adriel, who just recently started kindergarten. When it comes to priorities, Tim knows that family will always be his number one concern.
THE FUTURE
Tim prefers not to overthink or over anticipate his musical future.
"Di pa natin alam, ayaw ko unahan," Tim said, "I take it day by day, Kung may time to make music, I do it. Kung wala, I let it go and do Daddy duties."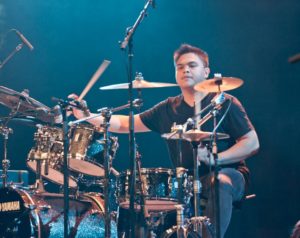 But he does have future plans, mainly working on compiling his QuaranTim Session music and giving copies to the participants.
Amid all this, he remains optimistic and hopeful about his future and the future of Pinoy rock in the United States. He believes that all effort is rewarded.
When asked what advice he can give to up and coming musicians, he answered with advice given to him by his friend Raimund Marasigan years ago:
"Kung ano binigay mo sa music, ibabalik ng music lahat yun sa iyo."
(Whatever you give to music, music will return all of it to you)
MUSIC
INFORMATION
Facebook: www.facebook.com/timderamosmusic
Youtube: www.youtube.com/channel/UCZwQieET8RddjFe22CzNEeg
Instagram: www.instagram.com/timderamos
Pinoy Rock USA would like to thank Tim De Ramos for allowing us to feature him in this site. More power to you Papa Tim! Rakenrol!
---
Reader's opinions
---