Spotlight: Hyphens
Written by DJ Tulisan on July 10, 2020
HYPHENS is a five-piece indie rock band based in San Francisco, California, and is currently made up of Kei Dvera on vocals, Shikes Barbero on left guitar, Dennis Sarte on bass, Franko Guevarra on right guitar, and Bernadette Cordova-Gardella on drums. The group is composed of veteran musicians from a variety of bands who all joined together, providing a creative outlet and embarking on a musical journey that has spanned more than three years.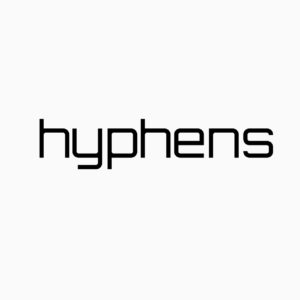 Classifying themselves as an indie rock/pop experimental group, Hyphens was formed in 2017 by musical architects Kei Dvera and Shikes Barbero out of a common love for 90's alternative rock and indie rock music. The duo writes songs about a plethora of different emotions, from the consuming heartaches of falling in and out of love, to the simple joys of a well assembled silog plate. Having gone through several lineup changes through the years, the band has constantly reinvented and reinvigorated itself with every new member, further honing their musical chops and presenting something fresh to new fans while also being a constant presence to their long-time followers. These supporters also include fellow artists who have played in numerous groups in the Bay Area Filipino-American music scene.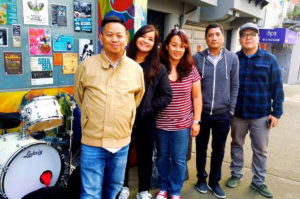 The first gig for Hyphens was when they served as an opening act for the double-performance by "Sandwich and Cheats" at the Neck of the Woods in San Francisco. They have also opened for Urbandub at Bal Theatre, Clem Castro of Orange and Lemons and/Dragonflycollector fame, Monty Macalino of Mayonnaise, Stephen Lu of Rizal Underground,  and Julie Plug, while also performing at Music City SF and other notable local venues.
While essentially a Bay Area supergroup, Hyphens possesses a sound that is both familiar and fresh. They continue to make new music and record new tunes, and are excited to once again display their musical prowess once the forced hiatus has passed and everyone is again safe to experience their fun and spirited performances.
THE BAND
KEI DVERA
The band's vocalist, previously of Garlic Project.
SHIKES BARBERO
The band's LEFT guitarist, previously of End of the Line and The Emoticons.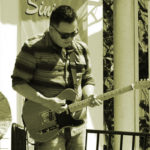 FRANKO GUEVARRA
The band's RIGHT guitarist, previously of Superproxy.
DENNIS SARTE
The band's bassist, previously of Nursery Rhymes and Golda and the Guns.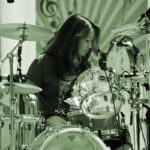 BERNADETTE CORDOVA-GARDELLA
The band's drummer, previously of Love Daria and Sputterdoll.
THE MUSIC
INFORMATION
Facebook: www.facebook.com/hyphensSF
Instagram: www.instagram.com/hyphenssf
Twitter: www.twitter.com/hyphenssf
Pinoy Rock USA would like to thank Kei, Shikes, Dennis, Franko and Bernadette of Hyphens for allowing us to feature them in this site. More power to you all! Rakenrol!
---
Reader's opinions
---