Spotlight: Sisa's Veil
Written by DJ Tulisan on July 3, 2020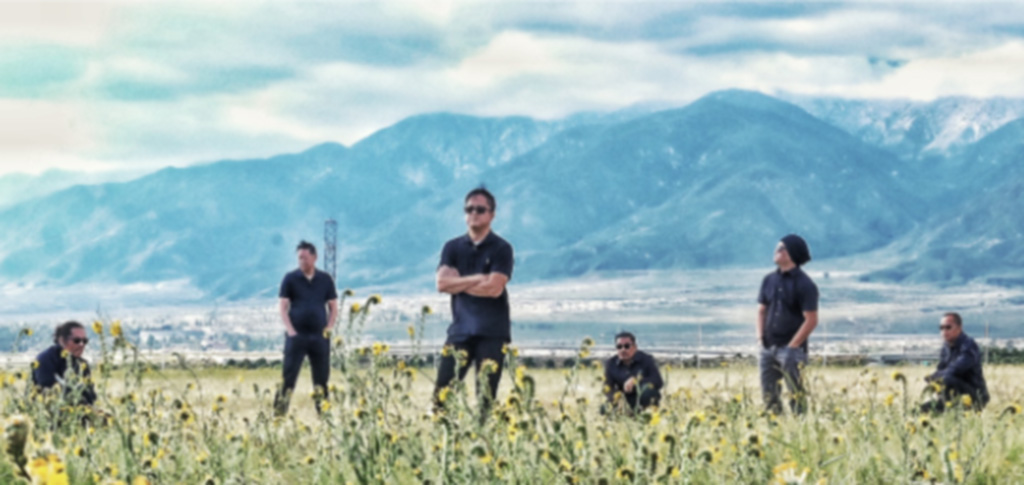 SISA'S VEIL is an alternative rock band based in Los Angeles, California, and is currently composed of Benjie Collantes, Droo Taruc, Cynar S. Magno, Lumar Delos Santos, Bimbo Ballesteros and Mike Abad. The group has been an enduring icon in the Los Angeles underground scene, formed almost twenty-five years ago and had attained legendary status among indie bands in the Fil-Am community after they went on a hiatus six years later.
Now, almost twenty years after their last gig, Sisa's Veil has risen from the ashes – what was meant to be just a reunion show has blossomed into what appears to be a full resurgence and a burning desire to reenter the Pinoy rock scene in Los Angeles.
THE STYLE
Sisa's Veil is known for their artistic forays into alternative rock, but they are also recognized for their ability to do inspired covers of slightly obscure new wave music. As was the prevalent trend with grunge rock in the late '90s, the band's sound had a lot of distortion. And with the absence of social media during those years, it was the type of music conducive to mosh pits, which at that time were prime indicators to how a crowd deemed one's music as "legit."
Performing exclusively in Los Angeles, the band's sound was pure, as it was around the same time as the local Pinoy rock renaissance in the Philippines via NU107 and LA 105.9. Hence, their sound was never influenced by that emerging brand of Pinoy rock, and instead was an amalgamation of Pinoy alternative rock, British new wave, and the authentic '90s sound that originated in the United States. It was also one of the reasons why the band's original songs were all in English, as it was a Fil-Am band peddling its trade in an American musical environment.
The music of Sisa's Veil was considered revolutionary in its time, and the group had been referenced by many long-time Pinoy bands in the indie rock scene as the people who helped launch Pinoy rock into prominence in Los Angeles.
THE HISTORY
Sisa's Veil was formed in early 1995 from the remnants of the members' college band, Milk. The original members were all college friends – Benjie Collantes, Droo Taruc, Barnard Panuga (Carter) and James Gonzales – who started the group as a typical garage band playing for family and acquaintances.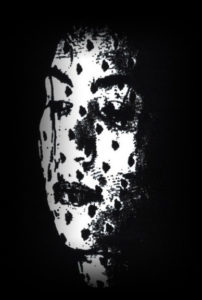 The band name "Sisa's Veil" was taken from an infamous character in Dr. Jose Rizal's masterpiece, Noli Mi Tangere. The character is a woman named Sisa, who became deranged and went insane after the loss of her two sons. Some illustrations depicted her wandering the streets looking for her sons, wearing a veil or something that covered her head or face. The group chose the name to reflect the roots of the band – all born and raised in the Philippines – and hoping that its uniquely Filipino name will incite Pinoy pride.
Benjie Collantes, the band's vocalist and guitarist, had been composing original songs even before the idea of forming a band was considered. Benjie is a prolific songwriter, but the music was a collective effort by the other members of the band. However, it was a time when being in a "rock band" meant you must be doing drugs – which was a polar opposite of what inspired Sisa's Veil to come together, which was to keep themselves busy to avoid doing those sorts of vices.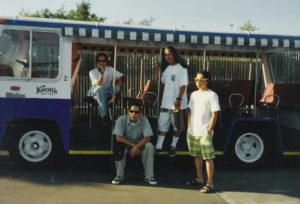 The band's first break happened when they got invited to perform at "Fiesta Filipiniana," a Philippine Independence Day Celebration at Knott's Berry Farm that took place in June 10, 1995, where they played their first three original songs, "Miles Away," "Confusion," and "Judas Belt."
After that, Sisa's Veil had an uphill climb to relevance, as it was performing at a time when the Filipino-American band scene in Los Angeles consisted mostly of "showbands" – bands who played mainstream rock & roll, oldies, classic rock, top 40s, and ballroom music. During that period, there were only a select handful of Fil-Am bands who played their original music in public gigs.
This proved to be an early hurdle for the band. While successful at holding gigs with a few other bands at Max's Restaurant in Cerritos, able to create their little "scene," it was still devoid of social media and only relying on printed flyers and word of mouth. It was a challenge for them to keep playing there, as well as finding restaurants, clubs or bars who would let them play. These establishments were all looking for showbands – performances that people can dance to instead of just listen to and appreciate.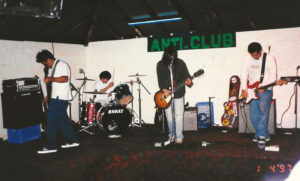 To solve this problem and nurture the emerging scene, Sisa's Veil, together with four other local Fil-Am bands, co-organized and played in an event called "LokalPinoySila '95" at the FACLA Hall in Los Angeles, and it was an instant hit, with more than 150 people in attendance. It was the start of the band's prominence as they finally broke into the L.A. band scene after that and played tenaciously in gig after gig. Memorable performances included those held at The Roxy Theatre, ANTI-CLUB, and the world-renowned Whisky a Go Go, as well as other famous clubs in and around the Sunset Strip.
In 1996, with the help of booming-but-now-archaic social media platforms like AOL, the "LokalPinoy" scene in Los Angeles attracted other Fil-Am bands hailing from Northern California, Nevada and even New York. Sisa's Veil started getting invited to play in San Francisco, which also had a new and emerging Fil-AM band scene. It was in that same year when the band started recording their next four original songs ("Hopeless," "Northstar," "Stoneheart" and "Call My Name"), all of which were included in a CD compilation released in early 1997, called "LokalPinoy Vol. 1."
The band has gone through several lineups and reshuffles through those years. Bassist James Gonzales relocated back to the Philippines and was replaced by guitarist Droo Taruc and the group got Aldrin Andraneda to take over Droo's spot on guitars. Drummer Barnard Panuga (Carter) called time off from the band due to school obligations, and was replaced by Eric Claro (who is now the vocalist for the metal band Thrust). Aldrin and Eric stayed for a couple gigs, and were replaced by Cynar S. Magno and Lumar Delos Santos, respectively.
Sometime in 1998, Sisa's Veil as a band was mutually dissolved, as each of the band members started pursuing individual life goals and professional careers. The members pursued other musical avenues during that time, but on Memorial weekend of 2001, three of the original members (Benjie, Droo and Barnard) reunited to play at the legendary CBGB OMFUG in New York City.
To date, that was the last public performance by Sisa's Veil.
THE RESURGENCE
Late 2019 was when Le-Van De Guzman, LokalPinoySila archivist and producer, and close friend to the band, convinced Benjie, Droo and Cynar to revive Sisa's Veil for a long-awaited reunion gig, almost twenty years after they last played. The reunion event was supposed to take place on March 14, 2020 at Bar Azul in West Covina, but was postponed for a later, undetermined date due to the COVID-19 pandemic.
During this lull, the current members – Benjie, Droo, Cynar, Lumar, and new members Robert "Bimbo" Ballesteros and Michael Abad, both on drums/percussion – were constantly practicing. Through the course of their rehearsals, they revisited some of their old songs and were then inspired to create new music.
What was planned to be a one-time reunion gig might be the spark of resurgence, a trigger for a full resurrection into the band scene. With new material on hand and a more mature, refined approach, there are high hopes that Sisa's Veil will be one of the brightest lights to shine this year, cutting through the darkness and despair.
Their new single, "Shatter My Universe," set to be released on the Fourth of July, is a welcome warning that, after twenty years, Sisa's Veil is back to shatter all expectations…
THE MEMBERS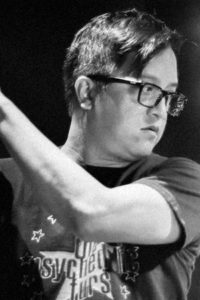 BENJIE COLLANTES (Vocals)
Born and raised in Manila, Philippines, Benjie is not only a seasoned veteran in the Pinoy indie rock scene in Los Angeles, but a famous figure in the L.A. new wave community as well. Aside from playing with popular bands like Milk and Peach Fantastic, his other previous bands are a who's who of new wave/alternative music in Los Angeles: Childhood Dilemma, Spiral Echo, Half-Mute and Space Age Love. His musical persuasions are new wave, post-punk, synthpop, jazz fusion, and '90s alternative.
Influences: The Cure, Tears for Fears, Depeche Mode, U2, Joy Division/New Order, Pale Fountains, Wild Swans, The Police, and more.
ANDREW "DROO" TARUC (Guitar/Bass/Synth)
Born in Manila and raised in Parañaque, Philippines, Droo is a soft-spoken but accomplished musician, playing with Benjie in both Milk and Peach Fantastic, but also with an assemblage of established bands like Mutiny (in Manila), Angkan ng Ifugao, Analgesia, Espiritu ni Kuto, Lost in Amerika, Pedro Gil (now Hello Pacific), Swimming Pools and Movie Stars (SPAM), Six Years Into, Kosa, Cebu, Asuza Jologz All Stars and a one-time session with Acid Rain. His musical persuasions are new wave, reggae, ska, brit pop, shoegaze, punk and metal.
Influences: Joy Division/New Order, U2, The Smiths, Tears for Fears, The Cure, Deans December, Bob Marley, Ziggy Marley, UB40, The Specials, Madness, Hatebreed, Death Angel, Refused, IOV, Dead Ends, early Metallica, Slowdive, Oasis, Happy Mondays, Stone Roses, and more.
CYNAR SAPANGHILA MAGNO (Bass/Guitar)
Born and raised in Cavite, Philippines, Cynar played with Benjie, Droo and Lumar in Peach Fantastic, but his other previous bands include Analgesia, Lost in Amerika, Cebu, and Asuza Jologz All Stars, and playe drums for Lost in Amerika, Brokenkord and Kosa, and sessioned for Acid Rain. His musical persuasions were new wave, reggae/ska, hardcore (punk & metal) and alternative.
Influences: Echo and Bunnymen, New Order, The Smiths, Tears for Fears, The Cure, Ziggy Marley, Morgan Heritage, Jboog, The Green, Common Kings, Collie Buddz, Sick of it All, Gorilla Biscuits, Operation Ivy, Minor Threat, Hatebreed, Unearth, The Wuds, Rage Against The Machine, The Police, Smashing Pumpkins, Weezer, Radiohead, Sonic Youth, Oasis, Sublime, and more.
LUMAR DELOS REYES (Guitars)
Not much is known about the enigmatic Lumar. His band members attribute it to his shyness, but sometimes they suspect it may be something more sinister. All they know is that he was born in the Philippines, likes 80s music including new wave and 90s music including alternative, and he played guitars for Pinoy Agenda, joined Benjie, Droo and Cynar before in Peach Fantastic, and also joined Cynar in Analgesia.
Influences: The Edge (U2), John Frusciante (Red Hot Chili Peppers), and Teddy Diaz (The Dawn).
ROBERT "BIMBO" BALLESTEROS (Drums/Percussion)
Born and raised in San Juan, Metro Manila, Bimbo is a veteran in the Pinoy music scene, having played in recognized bands in the Philippines like Distorted Minds, House of Beth and Half Life Half Death. In the United States, he also plays the drums for progressive rock band UNDERDEE, and was also once the drummer for famous Pinoy goth band Dominion. His musical persuasions include punk rock, rockabilly, post punk and good old fashioned rock n' roll.
Influences: Sex Pistols, The Ramones, Green Day, The Clash, Descendents, The Jam, Stray Cats, The Waterboys, Toto, Led Zeppelin, Eagles, Big Country, Cactus World News, INXS, Tears for Fears, The Power Station, Duran Duran, Culture Club, Prefab Sprout, China Crisis, The Church, Pale Fountains, Depeche Mode, Style Council, Violent Femmes, The Smiths, The Blue Nile, A Flock of Seagulls, Gene Loves Jezebel, The Icicle Works, ABC, New Order, The Call, Orchestra Maneuvers in the Dark, Pet Shop Boys, Flesh for Lulu, Lemonheads.
MIKE ABAD (Drums/Percussion)
Born and raised in Manila, Philippines, has played the drums for other high-profile indie bands in the Los Angeles rock scene like New Day in August, Space Age Love, and Alternative Ego. His musical persuasions include new wave, punk, post-punk, rock, alternative, and electronic.
Influences: Boris Williams (The Cure), Larry Mullen, Jr. (U2), Stephen Morris (Joy Division/New Order), Reni (Stone Roses), and Stewart Copeland (The Police).
* JAMES GONZALES (former bass)
Also played in Sharksfin Siomai, Charmin, Amorsolo, and Finest Summer.
* Barnard P (former drums)
Born and raised in Cubao, Quezon City, Philippines. Also played in Milk, Six Years Into, and Pedro Gil. Musical persuasions include rock, indie, and pop.
THE MUSIC
INFORMATION:
Facebook: www.facebook.com/SisasVeil/
Youtube: Check out video footage of classic Sisa's Veil gigs at lokalpinoyrocks (www.youtube.com/user/lokalpinoyrocks)
Pinoy Rock USA would like to thank Benjie, Droo, Cynar, Lumar, Bimbo and Mike of Sisa's Veil, with special thanks to Joyce Punsalan Collantes, for allowing us to feature them in this site. More power to you all! Rakenrol!
---
Reader's opinions
---