Spotlight: SYNTH Heart
Written by DJ Tulisan on June 12, 2020
SYNTH HEART is a synth-rock/electronic pop band based in Los Angeles, California. The group is composed of Sharon Gagne on vocals, Elmo "E.G." Ruiz on keyboards, Angelo T. Villegas on bass and Bon Mayor on drums. They have appeared in several live events in the L.A. area and performed in band festivals with other notable indie acts. They have also opened for the likes of Glenn Jacinto, Parokya ni Edgar, UDD (Up Dharma Down), and Ely Buendia. The group is currently working towards releasing singles and their first album this year.
SYNTH Heart's sound is reminiscent of The Cranberries and Chvrches, mainly due to the late Dolores O'Riordan's influence on Sharon's vocal style. Initially starting out with mainly synthesizer-driven songs, SYNTH Heart recently added guitars to their accompaniments to expand their repertoire and songwriting flexibility.

THE HISTORY
SYNTH Heart started out as a duet, with main songwriter Sharon Gagne as vocalist and E.G. Ruiz on keys. While E.G. was more than capable of playing all instruments needed to record their songs, live performances were another thing altogether. They both agreed that they needed sessionists, particularly a bassist and a drummer.
It was not an easy search, especially given the fact that most sessionists already have a regular band they play for, and with the unique approach that SYNTH Heart had to their material, they needed musicians who had a grasp of what they wanted to achieve with their music.
After trying out several people, they met bassist Angelo Villegas and drummer Bon Mayor, who both understood SYNTH Heart's music and how different it is compared to other bands. Playing well together with Sharon and Elmo, Angelo and Bon helped build a solid foundation to the band's music, thus solidifying the band's current lineup.
The idea for the band's name can be traced back to the group's very first song, "Voices," a synth-driven piece that sounds very electronic with a twist of pop. Most of the group's early songs had no guitar and relied heavily on keyboards and synthesizers. The band realized that it was the direction they wanted to go with the rest of their songs, and came up with the name "SYNTH Heart," with "synth" coming from their synth-driven songs, and "heart" coming from the songs they wrote, which were mostly about love and heartbreaks.

THE BAND
SHARON GAGNE – Vocals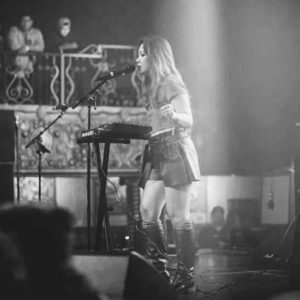 Sharon was born in Dasmarinas, Cavite, Philippines. As a Pastor's kid, she started out as part of the church choir, learned classical piano at seven years old, and got interested in songwriting when she came to the U.S. at sixteen years old.
Influences: The Cranberries, Dido, Lea Salonga, and Chvrches.
ELMO "E.G." RUIZ  – Keyboards/Guitars
E.G. was born and raised in Cebu City, Philippines. At 14, he developed an interest in music after being influenced by his friends to play the guitar. He then became part of several bands in the Philippines and has been making music since high school.
Influences: Pearl Jam, Backstreet Boys, and Tupac
ANGELO "ANGE" T. VILLEGAS – Bass Guitar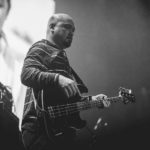 Ange was born in Manila and grew up in Quezon City. He also became interested in music after being part of their church choir, and used to play drums back in the Philippines.
Influences: Rock, Alternative Rock, Funk Rock, Acid Jazz, and Reggae.

BON MAYOR – Drums
Born in Pasay City and raised in Makati City, Philippines, Bon got into Blues & 70s Rock in his early teens. He embraced the 90s band explosion in the Philippines, which led to him playing in various bands thereafter. He played guitar for around 7 years and drums for more than 15 years.
Influences: Collective Soul, Black Crowes, Live, GnR, Eric Clapton, Steely Dan, 10000 Maniacs.

THE MUSIC
SYNTH Heart is currently working on their first album, set to be released this year. The band is also gearing up to release one of their singles, titled "Universe," in the same time frame.
Coincidentally, Universe is the only song not written by the band – the lyrics were based on a poem written by Shantel B. Urrea, who gave the band her permission and blessing to turn her work into a song.

INFORMATION
Facebook: www.facebook.com/synthheart
Instagram: www.instagram/synthheartband
SoundCloud: www.soundcloud.com/synth-heart
CREDITS
Meryl M of Meryl M Photography (for individual band member photos)
OPM Amerika (for "Universe" music video)
Pinoy Rock USA would like to thank Sharon, E.G., Angelo, and Bon of SYNTH Heart for allowing us to feature them in this site. More power to you all! Rakenrol!
---
Reader's opinions
---