Spotlight: Monumental By Far
Written by DJ Tulisan on May 8, 2020

MONUMENTAL BY FAR is a new wave indie rock band in San Francisco, California headed by front man Ferdz Rafanan with lead guitarist Chino Magliba, rhythm guitarist Francis Macapagal, bassist Dan Medina and drummer Howard Medina. Founded by Rafanan in 2017, the band combines melodic riffs with hard-hitting guitar tunes that call back to the musicality of the 1980s. Thriving on live performances, Monumental By Far brings a unique taste to their listeners' palates, melding new wave sounds with melodic hooks that grab your ears and would not let go. This is a band with a ton of material, with main songwriter Ferdz Rafanan having written over 100 songs just waiting to be brought out into the wild and consumed by their anxious fans.
Monumental By Far has performed in numerous live gigs, and has shared the stage with acclaimed Philippine musicians like Parokya ni Edgar, Rivermaya, Bamboo, Rico Blanco, and Urbandub as well as local acts in the Bay Area.
THE MUSICAL STYLE
Monumental By Far is one of those bands who show how much the 1980s have made its impact on them, with atmospheric melodies harkening back to the new wave era that heavily influenced many Pinoy bands, but with poignant indie structure added by Ferdz. Even without the signature synth sound that was prevalent in the new wave era, Monumental By Far accomplishes their smooth, moody sound with creative arrangement and sound construction.
THE HISTORY
Monumental By Far was founded by Ferdz Rafanan in January of 2017, who had been writing original songs in his garage since 2016. Inspired by new wave, punk and indie music, Ferdz fashioned his songs to be catchy, emotional and even contemplative.
The band's name was something Ferdz came up with even before the band was formed. Monumental By Far has a double meaning – looking at something big from up close, but also looking at something from afar and determining it is also something big – an appropriate analogy for the band.
Monumental By Far's current lineup was achieved in 2018, and they first played at Neck of the Woods along with other small venues like Stork Club. Their increasing popularity led them to playing in larger venues like The Regency and Bal Theater to name a few, often as one of the local bands rubbing elbows with touring rock stars from the Philippines.
The band is currently in the process of releasing our self-titled full-length album consisting of 12 tracks. However, a second album is already being planned even before the first one is officially released, owing much to their abundance of material. They also hope to play live once more along with the other local bands in the Bay Area and have already been invited to play at Wish Bus and Paco's Place. As their music grows, so does their desire to get it to as much people as possible, even hoping to go on tour in the Philippines.
Forming a band was not in Ferdz's original plans when he started writing songs, as his desire was to record his songs and, according to him, "leave a small legacy behind even after he is gone." With the hard work and accomplishments of Monumental By Far, this goal does not appear so monumental.
THE BAND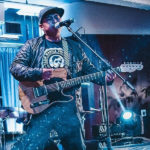 Ferdz Rafanan (Vocals)
Influences: The Smiths, The Cure, Blink 182, Angels and Airwaves
Chino Magliba (Lead Guitar)
Influences: Dream Theater, G3 and John Mayer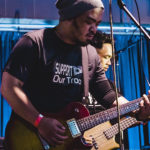 Francis Macapagal (Rhythm Guitar)
Influences: P.O.T., Rage Against the Machine, Plini
Dan Medina (Bass Guitar)
Influences: Mudvayne, Marcus Miller, Tool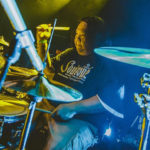 Howard Medina (Drums)
Influences: Pantera, Ill Niño, Mudvayne
THE MUSIC
INFORMATION:
Facebook: www.facebook.com/monumentalbyfar/
Instagram: www.instagram.com/monumentalbyfar/
Twitter: www.twitter.com/MonumentalByFar
Youtube: www.youtube.com/channel/UCXTlBRpqO_Zu-4fuIiOoqIw
Spotify: open.spotify.com/artist/6OuTiYxkQdS3nNJ9iAe1tw
iTunes: music.apple.com/us/artist/monumental-by-far/1508760646
Pinoy Rock USA would like to thank Ferdz, Chino, Francis, Dan and Howard of Monumental By Far for allowing us to feature them in this site. Mabuhay kayong lahat! Rakenrol!
---
Reader's opinions
---